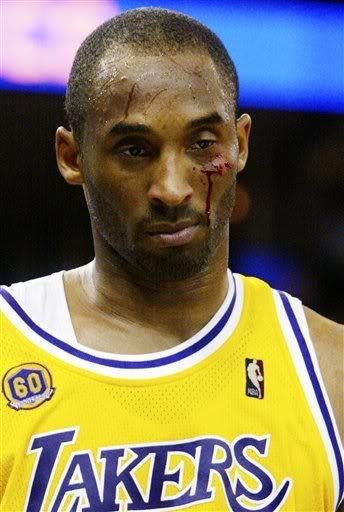 Its almost been a month since the Boston Celtics
annihilated
the
Lakers
in 6 games. However, to all the still mourning
Laker
fans, I do not send my condolences. The insane Jordan comparisons need to be shattered with every
Laker
fan's dream of winning another title. What
Laker
fans need to realize is there is no "team" in "Kobe" to the All-Star. Many Kobe "coat-tail riders" will say, "Kobe has three rings"(one that is debatable due to allegations of fixed games). Let me be the one to inform you that
Shaq
won those three rings. To open
Laker
fans' blinded and biased eyes even more, a little over three years ago when Kobe demanded to get rid of the then most dominant player in the NBA(
Shaquille
O'Neal
), or he leave, Boston Celtics' Ray Allen called Bryant's demands "selfish" and "pathetic." The next year
O'Neal
returned to the finals with Miami to win again, and this year Ray Allen added new
jewelry
to his shooting hand. Since then, Kobe has no rings. However, he did score 81 points in one game.
Surprising
? No way. He almost took 50 shots that game. Bryant added a
measly
2 assists. Here is a little something I found to be very entertaining on Y
outube
. This will write in fine print in
everbody's
mind why Kobe Bryant will never be a champion again..........